Kitchen Spraying: Transformation Without Installation
Now that summer is drawing to a close, temperatures are starting to drop and wet weather becoming more frequent, we have started picking up a lot more work respraying kitchens for our clients. These temperature and humidity fluctuations can make it difficult for outdoor spraying of window frames and UPVC doors, but with kitchen spraying this doesn't matter. Kitchen cupboard doors are sprayed off site at our specialist spraying unit in Nottingham.
Why do customers want their kitchens spraying?
Quite often, customers will come to us after moving into a new property where they would like to change their kitchen without the huge outlay of fully replacing it.
Other customers are looking for ways to update their existing kitchen in the property that they have lived in for years. When they first had their kitchen installed years ago they chose a colour scheme and style which was on trend at the time. However as we all know home design trends are forever changing and kitchens (as well as other rooms in the home) are no different. An old outdated kitchen can quickly be improved simply by changing its colour.
Some of our customers are landlords who want to try and keep their properties looking their best, either of existing tenants or for attracting new tenants to their properties. Respraying a kitchen makes much more commercial sense than a total refit (provided the kitchen doors and drawer fronts are in good condition).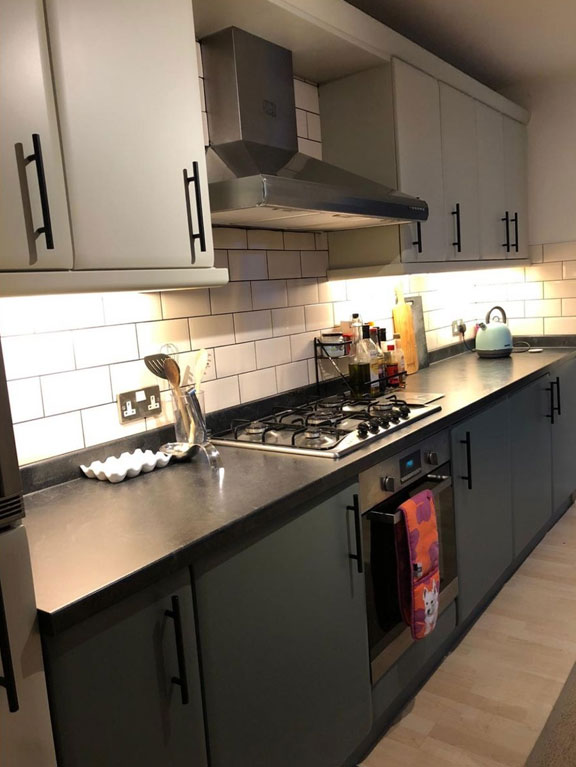 Costly Installation Isn't Needed
The cost of a brand new kitchen can easily turn into a small fortune and that's just for the new worktops, units and doors. Factor in the new appliances and possibly a new flooring surface and the price can spiral out of control. Fitting by a professional kitchen fitter would also be an added cost, the price of hiring skips to get rid of the old kitchen must also be considered.
Spraying your kitchen is the much more cost effective way to achieve that new kitchen look, costing a mere fraction of what a full installation would.
What Colours Are Available?
How long is a piece of string…? There are literally 100's of colours you can choose from, whether you want to completely revamp and change the colour of your kitchen completely or make a subtle change. We offer the RAL colour range which has been a popular choice for many customers, but we also offer the fashionable Farrow & Ball range. F&B is extremely popular with modern interior designers, the good news is that we can spray your kitchen in any of the Farrow & Ball colour range!
We can also colour match for you, if there is a very specific colour you really like the look of, no problem!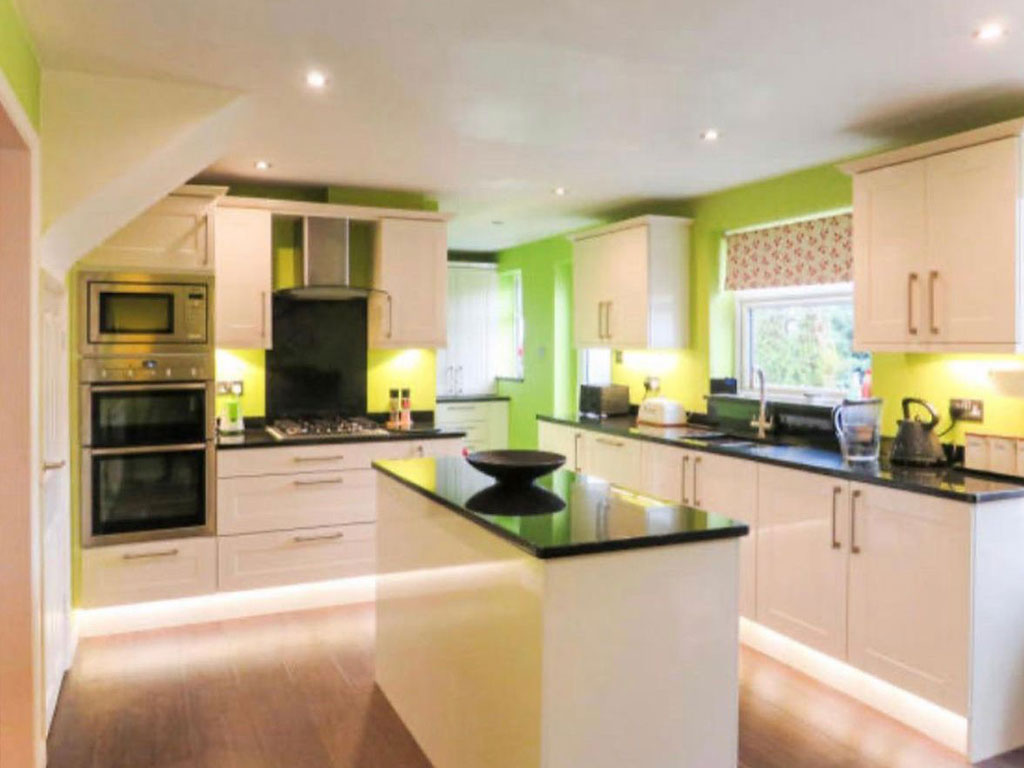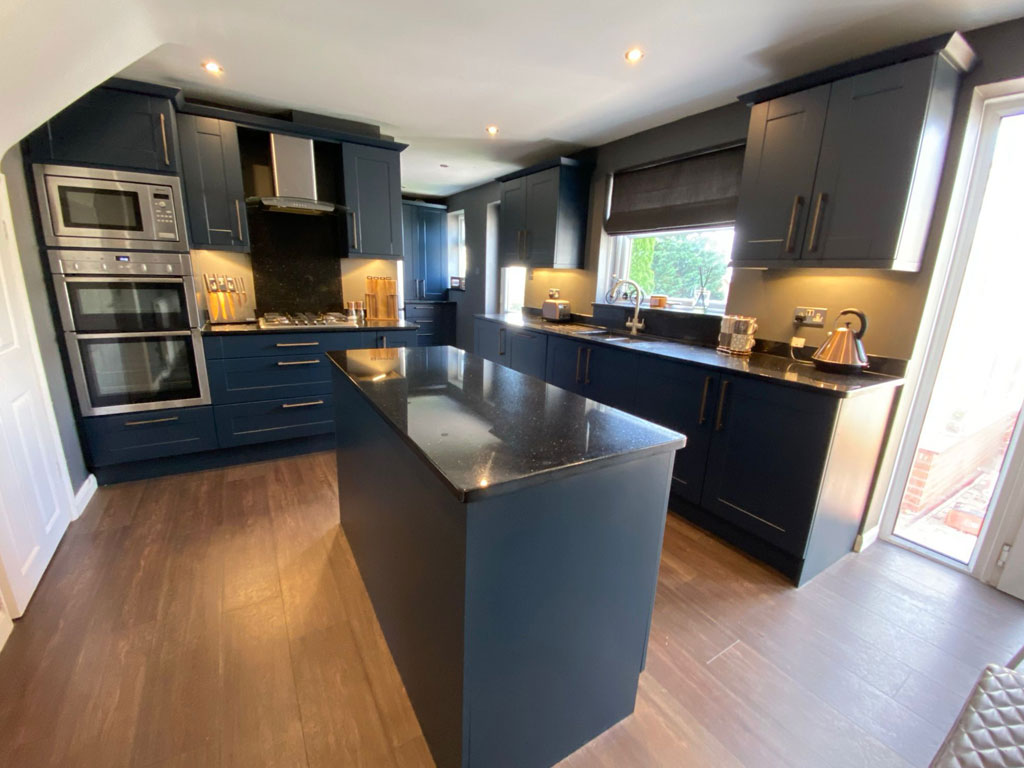 For the more daring we can spray your kitchen in a luxurious contemporary dark shade of grey, black or dark blue. These colours give a real impact to your kitchen, bringing the design style right up to date! This sleek modern contemporary look can be quite expensive if you were to have a brand new kitchen with this style of door. However with spraying, that same look can be achieved at a fraction of the cost.
Dull Beige to Sparkling White!
Over time lighter colours such as beige can begin to look yellow over time, especially with a build up of general kitchen grease and grime, this yellowing can be quite tricky to correct. In this instance customers come to us to respray their kitchens in a much crisper, more modern bright white.
Spraylords have a range of different colours, all of which are available in matte, satin and gloss depending on the finish you are looking for.
Spraylords are professional kitchen spraying specialists, we can save you huge amounts of money compared to a brand new kitchen installation. Our clients range from domestic home owners to landlords with multiple properties in their portfolio. We are able to spray you kitchen in any colour you can think of, in 3 different finishes, matte, satin and gloss.
For a free quote and to discuss your kitchen respray please contact the team at Spraylords today.